Gutter Cleaning Services in Nanaimo
Mr. Sparkle – Gutter Cleaning Company in Nanaimo B.C.
When you think gutter cleaning Nanaimo, you should think Mr. Sparkle. Our company has been serving Nanaimo for 30 years, clearing, maintaining, and cleaning eavestroughs for business and residential homeowners. Our team of highly trained individuals is here to provide honest and trustworthy services to our local community and neighbors. Furthermore, our gutter cleaning services are among the best in the exterior cleaning industry in Nanaimo. Mr. Sparkle can handle any magnitude of any job without sacrificing the very best in safety standards.
We are a family-owned small business and we are proud to deliver the best customer care in Nanaimo. Correspondingly we strive to provide supreme services that will always leave you satisfied. Also, Mr. Sparkle guarantees whether residential or commercial we will always treat you, your home, and your business with the utmost care and respect.
Our attention to detail is on-point! Our gutter cleaning technicians are all highly experienced and vetted. This is designed to ensure our quality control is of the highest standard. That way you will be sure that you get exactly the service you desire and intend to receive. For over 30 years, we have built a reputation of excellence in central Vancouver Island.
We remove all debris from your gutters and clear your downspouts, keeping your gutters free flowing reducing long-term potential damage Additionally, Mr. Sparkle has proven techniques and solutions to provide the very best customer experience and service in Nanaimo. Require more information? Then just call 1-250-714-6739 or click the button below to visit our contact page!
Choose Mr Sparkle For Your Gutter Cleaning Needs.
At Mr. Sparkle Gutter Cleaning Company, we pride ourselves on being a reputable and reliable gutter cleaning service in Nanaimo. We understand the importance of keeping your gutter clean and functioning correctly to protect homes and businesses from water damage. That's why we have a team of experienced and professional technicians who are fully licensed and insured to provide top-quality gutter cleaning services.
We pay attention to every detail during the gutter cleaning process to ensure that all debris is removed from the gutters and downspouts. We also inspect the gutters for any damages or leaks that may require repair. As a result, our pricing is competitive, and we provide free quotes to our clients, which include a breakdown of the gutter cleaning services we will offer and the cost.
We use safe and efficient cleaning techniques to clean gutters thoroughly, including specialized tools and equipment such as high-powered vacuums and pressure washers. We also offer flexible scheduling to accommodate our clients' busy schedules.
Overall, our goal is to provide exceptional gutter cleaning services to our clients in Nanaimo. We want to ensure that their gutters are cleaned thoroughly and professionally, and that their homes and businesses are protected from water damage.
More about our Gutter Cleaning Services.
We now clean up to 40 feet-high gutters, perfect for condominium buildings and our residential clients.
Our experienced technician utilizes safety fall arrest systems to perform every gutter cleaning service.
After Gutters are cleaned of all debris and the Downspouts are clear, we remove all debris.
Additionally, we are insured and covered by Worksafe BC. Don't take unnecessary chances and hire a company without proven Insurance; it isn't worth the risk.
We remove the debris, leaves, moss, cedar, or fir needles from your gutters and follow up by flushing your downspouts.
We are happy to beautify your gutters by washing and removing the unsightly black streaks off your gutters.
Equally important, on top of gutter cleaning services we also offer repair services.
All work is performed with care and consideration for your house and property, and the safety of all concerned is our priority.
Clear out your Eavestrough every Fall.
Every Fall homeowners typically have a long list of chores to complete around the yard. In order to prepare for the winter and rainy season, there is one activity that should be a top priority. What we mean is Removing leaves, pine needles, and debris from your eavestrough is highly important. Comparatively living in coastal British Columbia you should expect a fair amount of rain every winter. Keeping your drainage systems clear could save you a huge headache as well as a large financial repercussion.
When your gutters remain backed up over time it can cause damage to your roof as well as the foundation of your home. Coupled with the long-term risk such as having the structure of your home rot slowly over time. There is a short-term consequence that could threaten the health of you and your family. Consequently, black mold thrives in dark and wet environments that could be created by having a water leak from your gutters down into your out walls.
Don't hesitate to call a professional roof cleaning company if you have any questions or doubts about the condition of your roof or gutters. Experienced exterior cleaners, like our family at Mr. Sparkle, are qualified to safely carry out any roof or gutter cleaning services your house may require. Remember to call our executive house washing team before it's too late.
Always complete the tasks on time.
Respectful and friendly to clients.
trustworthy and honest employees.
Excellent reputation in Nanaimo.
Best value to quality conversion.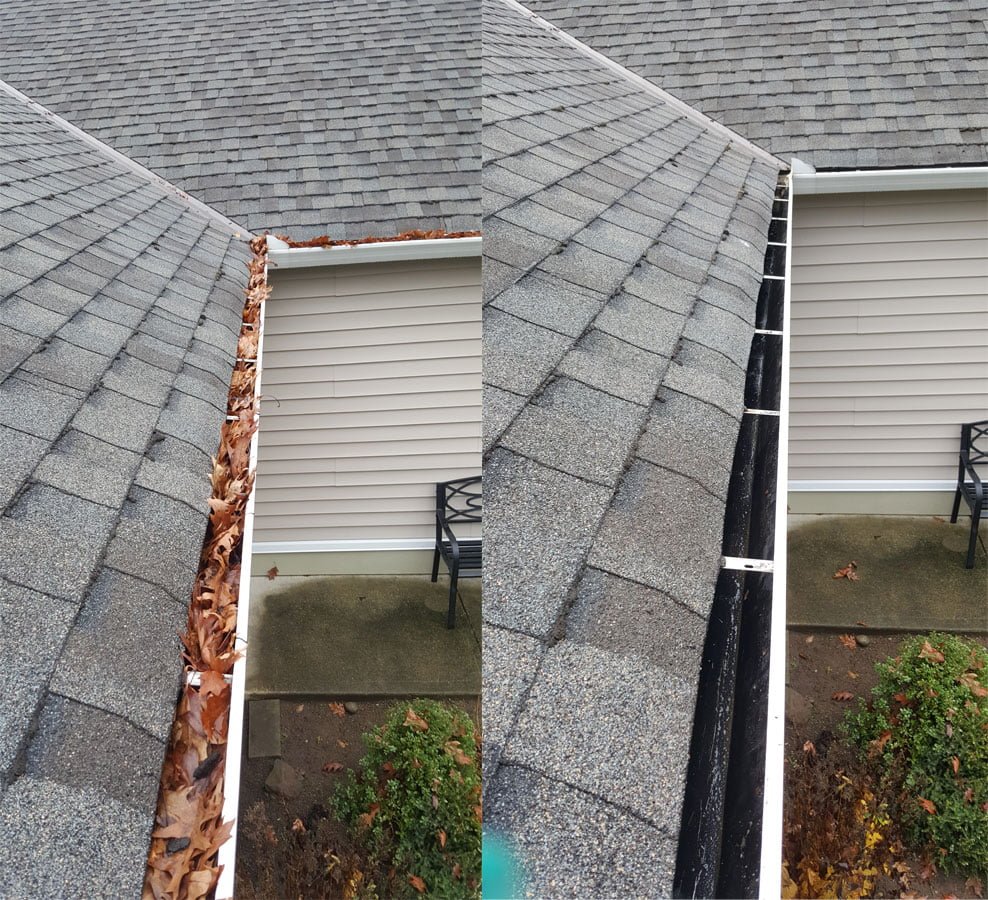 Remember that Gutter Cleaning will help:
Gutter cleaning can protect your home from water damage by collecting rainwater and directing it away from your home's foundation. However, if your gutters become clogged with debris such as leaves, twigs, and other debris, it can lead to a host of problems, including:
Prevent Pest Infestation. A build-up of leaves, sticks, and debris creates the perfect home for many pests. Examples of these include rodents, birds, and insects such as wasps. And the last thing you need is to walk right under a bee's nest when you go to get your morning paper!
Keep Your Roof Safe. Clogged gutters cause major backups to the drainage on your roof. Giving the water nowhere to go but into your roof and shingles. This can rot out your facia walls and your shingles. Remember, the most challenging place to fix a roof is at the bottom.
Defends Against Water Damage. When your gutters and downspouts become backed up with dirt and debris, rainwater has nowhere to go. Consequently, this can cause more than just Damage to your roof. You are resulting in Damage not only to your roof to your but also to the foundation exterior and interior of your home.
You are reducing the Damage to your foundation. When your gutters overflow, it can cause water to pool up around the base of your house. This water will seep into the ground next to your foundation. Subsequently, this flooding could crack your foundation if the temperature drops just enough to freeze and expand the soil.
Saves Money. Furthermore, clearing out your eavestrough seasonally can help you elude expensive projects in the future. Finally, preventative cleaning measures can help extend the life of various materials on the exterior of your home.
Therefore, cleaning your gutters regularly is essential to ensure they function correctly and protect your home from water damage. It's recommended to have your gutters cleaned at least twice a year, once in the spring and once in the fall, or more frequently if you have a lot of trees around your property. Gutter cleaning is essential in Nanaimo, British Columbia, where there is significant rainfall. Regular maintenance will ensure your gutters function correctly and your home is protected from water damage.
Contact Mr. Sparkle today to take advantage of our free quotes and estimates. To book a free appointment you can call us at 1-250-714-6739 or click the button below.