ABOUT US – MR. SPARKLE EXTERIOR CLEANING
Mr.Sparkle Exterior Cleaning has been in business since 1992' in the Nanaimo area and our number one priority is customer satisfaction. We provide FREE ESTIMATES for Gutter Cleaning Vinyl Siding Cleaning Roof De-Mossing Window Cleaning Power Washing and Stucco Cleaning.
ABOUT MR. SPARKLE PRODUCTS
Strata and Residential Roof De-Mossing is a service we have been offering since our early years and our experience has benefited many clients. We leave your roof looking clean and completely moss free, extending it's life an average of 4 years. This service has a significant effect on your homes appearance. It's what homeowners consider a good investment, why reroof prematurely?
Strata and Residential Vinyl Siding is another service we offer. Vinyl siding is washed by applying special commercial biodegradable Vinyl cleaners that emulsify dirt, and algae while using soft bi level brushes to agitate and clean before rinsing. The results are a Sparkling' home.
Our Strata and Residential Gutter cleaning service ….. we clean the debris from inside your gutters, followed by cleaning and inspecting the downspouts. No more overflows.Keeping your gutter system running properly not only protects the foundation of your house, it also helps to prevent erosion of painted surfaces by reducing their exposure to water. Small repairs are also available, and we take the debris we removed from your gutters and dispose of it as well.
Strata and Residential Gutter washing is also offered on our list of services, the outside face of gutters have black streaks and algae build up, we will wash them clean so your homes looks sparkling'!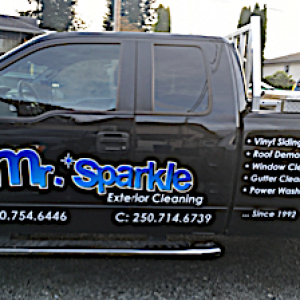 Strata and Residential Window Cleaning, well without this service Mr.Sparkle wouldn't have existed. I started cleaning windows in Nanaimo in 1992….and I haven't stopped, We use the best commercial glass cleaners and our use of these window specific solutions leave the glass on your home Sparkling'.
Strata and Residential Power washing. We pressure wash Driveways, Patios, Walkways, decks, landings and more.
Contact us for a free no obligation estimate.
"If you're going to clean it, make it sparkle!"