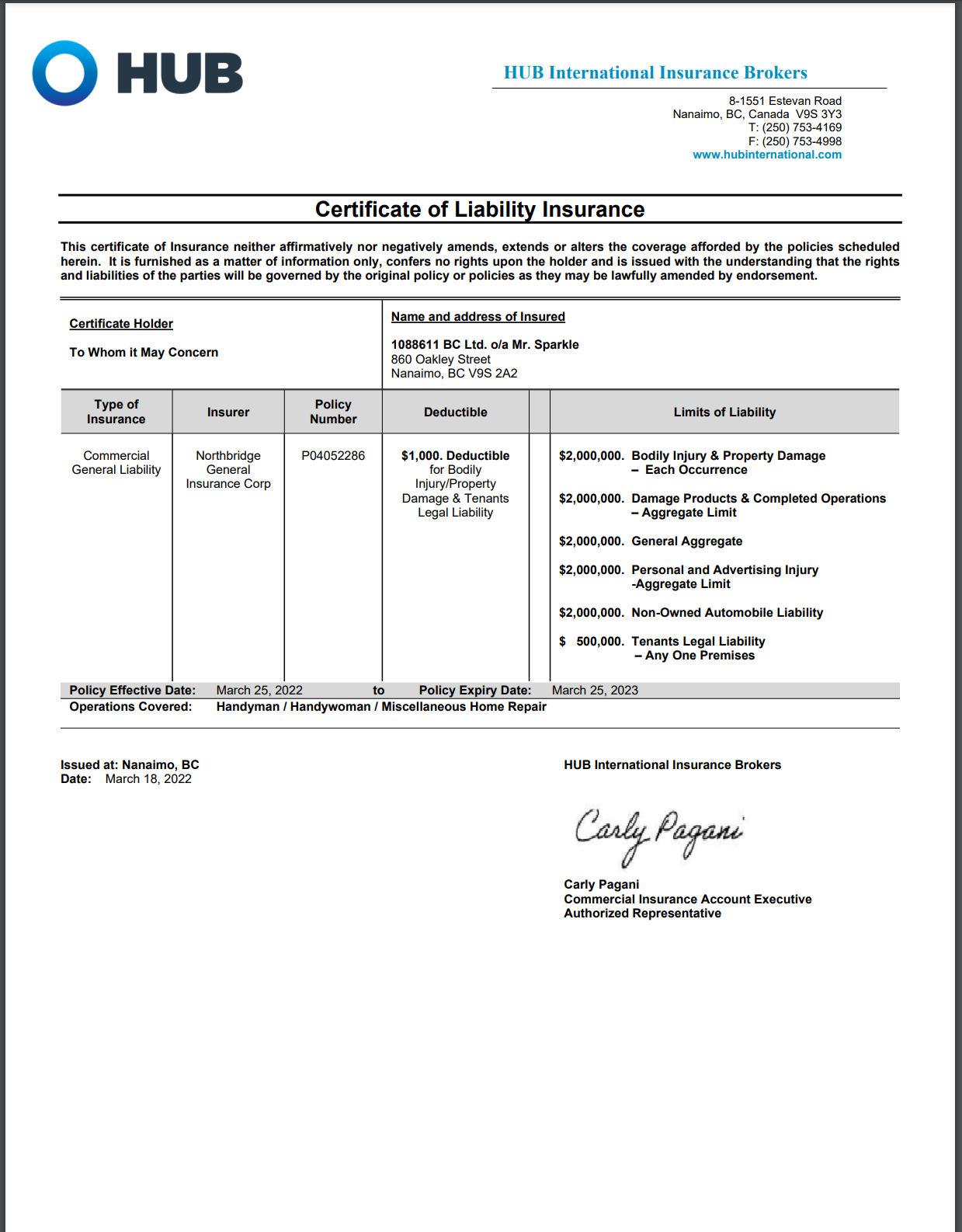 Mr. Sparkle is Fully Licensed and Insured
Mr. Sparkle Exterior Cleaning is a family-operated professional Pressure Washing Company in Nanaimo, that offers services for all of your House Washing needs. From residential to commercial, we do it all. We make sure we're the best choice for our clients by offering top-rated services and unbeatable quality work that you can rely on. Our company is fully licensed and insured so you know you're in good hands. With over 25 years of experience, you can depend on Mr. Sparkle to provide the best exterior cleaning services to Nanaimo and the surrounding areas.
Some people look for cheaper low-budget options when it comes to washing their homes themselves or hiring unlicensed exterior cleaners. But when considering exterior home maintenance, the cheapest companies are not always the cheapest and safest routes. While these options have the potential to save dollars, they can also put you and your family's home at risk. Hiring a licensed roof cleaner may cost you a tiny bit more, but it is a safer option and a long-term investment. Which ultimately has the potential to save you a lot more money.
Mr. Sparkle's Licensed Pressure Washing Nanaimo has gained experience over the years and knowledge from the proper methods and training courses. They invest the time into obtaining the appropriate permits and certification from authorized governing bodies and insurance brokers. Most licensed companies carry 3rd party liability insurance not only for their customers but also for themselves so no party walks away at a loss. Liability insurance protects everyone from personal injury and costly property damage. This is important as most contractors do not carry enough capital to rectify damages without insurance.