Window Cleaning in Nanaimo B.C. – Our Window Cleaners Make Your Glass Sparkle!
Professional Window Cleaning Services In Nanaimo For Your Convenience
Are your windows in need of a good cleaning in Nanaimo? Leave the ladder and the cleaning supplies in the garage and give Mr Sparkle Exterior Cleaning a call. Our professional and comprehensive window cleaning service offers Nanaimo residents the opportunity to have shiny, clear windows all year round. We'll clean both sides of every window of your home or business, even the hardest to reach, and make sure even the toughest of stains and grime are removed in one quick visit.
Whether you're trying to improve the curb appeal of your property, have guests coming over, or simply want to enjoy a clear view of the beautiful Nanaimo scenery, we know how time-consuming and challenging it can be to clean your windows yourself. With our state-of-the-art equipment and experienced crew, we can tackle any window cleaning job, no matter how big or small, leaving your windows spotless and streak-free.
Don't waste your precious time and energy on window cleaning when you could be out exploring the stunning beauty of Nanaimo. Let us take care of the dirty work while you sit back and relax. Contact Mr Sparkle Exterior Cleaning today for a free, zero-obligation quote.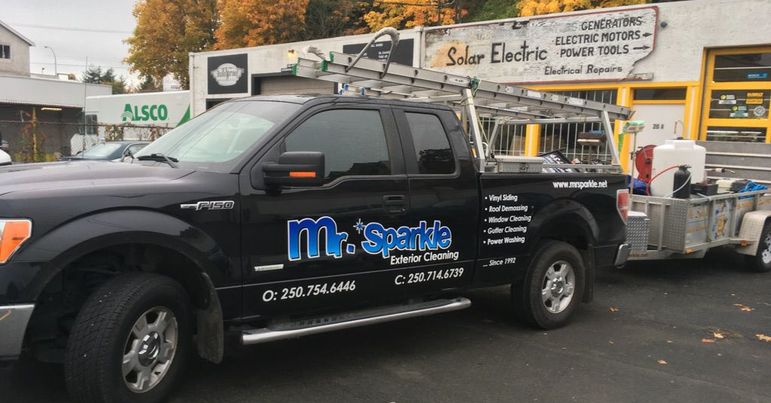 We are now Professionally clean windows up to 50 feet high. Great for high Strata complexes. We are also happy to clean your bungalow.
3 Fully Equipped Service trucks for your convenience
We are Fully Insured and covered by Worksafe BC
Strata and Residential
Exterior, Interior and Screens are professionally cleaned by hand.
26 Years of Service in Nanaimo.
We are an experienced and Professional Company who are courteous to our clients, expect excellent customer service and workmanship when we arrive at your
home…. every time.
Scheduled cleaning available.
Prompt, free, no-obligation estimates.
All work performed with care and consideration for your house and property and with the safety of all concerned is our first priority
At Mr Sparkle Exterior Cleaning, we treat your home with the same dedication, meticulousness, and care that we would like our own. Our cutting-edge equipment can handle a wide range of window types, including single pane, double pane, French pane, skylights, glass panels, storm windows, patio covers, solariums, and more! If it's made of glass, our talented crew can restore its sparkling shine as good as new.
Our team of window cleaning professionals utilizes only the latest technology to ensure your windows shine brighter than any other. Using a combination of advanced carbon fibre, water-fed poles, and state-of-the-art water purification technology, we can remove even the toughest stains on your windows, even on those hard-to-reach areas.
Experience the difference in your home's appearance with just one visit from Mr Sparkle Exterior Cleaning. Contact us today to learn how we can bring a fresh sparkle to your windows in Nanaimo.
Window Cleaning FAQs for Mr Sparkle Exterior Cleaning in Nanaimo:
Q: How do you clean windows without streaks?
A: Our team uses a reliable applicator and squeegee method, filtered water and a biodegradable window cleaning solution to ensure your interior windows are streak-free. We use a telescopic water-fed pole for exterior windows that can reach up to five stories high. Our advanced four-stage water purification system also purifies the water to ensure your windows and frames are crystal clear and sparkling.
Q: Can you clean my windows in the winter?
A: In Nanaimo's colder climate, we recommend waiting until warmer weather to clean your windows. However, if you can't wait any longer, we're always available to clean your windows, no matter the season.
Q: How often should I have my windows cleaned in Nanaimo?
A: To keep your windows looking their best, we suggest cleaning them at least twice a year. But since Nanaimo experiences heavy rain and snowfall, we understand that extra cleanings may be necessary.
Q: How much does window cleaning in Nanaimo cost?
A: The final price of our window cleaning service depends on several factors, including the size of your home, how many windows need cleaning, whether we clean both sides of the windows or just the outside, and if you require any other services. We're happy to provide a free, no-obligation estimate for our Nanaimo window cleaning service.
Q: What window cleaning solution do you use?
A: Our team uses filtered water with a biodegradable window cleaning solution to ensure no streaks from mineral deposits. This solution also prevents damage to the surrounding landscape.
Our Window Cleaning Services
Exterior window cleaning
Interior window cleaning
Storm window cleaning
Glass rail panel cleaning
Skylight washing
Screen cleaning
Contact Us Now For a Free Estimate!